My Blog
Posts for: July, 2014
By Jennifer L. Graves-Nagel, D.D.S.
July 17, 2014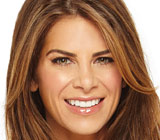 As America's toughest trainer on the hit television program The Biggest Loser, Jillian Michaels helped people learn that they hold the power to change. And if anyone knows about the power of changing oneself, it is Jillian Michaels. In her recent interview with Dear Doctor magazine, Jillian discusses her childhood, the trauma of being overweight as a teenager (5' 2" and 175 pounds), and the day her life forever changed when she started martial arts training at a gym. "I started training when I was 17 and always loved it but never thought it would end up being my career," she said.
Jillian also reveals that when she was a child, she broke her two front teeth and had them repaired with crowns. She added, "Now, I generally wear a mouthguard if I am doing anything where my teeth have any chance of being knocked out."
When it comes to replacing teeth that are broken or damaged from trauma, or teeth that are damaged because of dental decay, grinding habits, or acid erosion, crowns may be your best option. And because the tooth enamel is damaged, a bit more of it must be removed before we can place a crown. Generally speaking, we must remove about 2 millimeters of tooth structure to place a crown. Once the crown is placed, the tooth will always require a crown, as this is an irreversible procedure. However, the good news is that a crown not only mimics the look and feel of a natural tooth, but it is also the optimal long-term solution. On average, a crown last between 5 and 15 years and requires no special maintenance. In fact, you should treat your crown as you do your natural teeth, with a daily cleaning regimen of brushing and flossing and routine dental examinations and cleanings.
To learn more about crowns or other cosmetic procedures, contact us today to schedule an appointment so that we can conduct a thorough examination, discuss any questions you have as well as what treatment options will be best for you. Or to learn more about crowns now, you can continue reading the Dear Doctor magazine article "Porcelain Crowns & Veneers." And to read the entire interview with Jillian Michaels, please see the article "Jillian Michaels."
By Jennifer L. Graves-Nagel, D.D.S.
July 02, 2014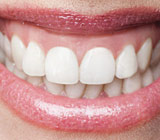 Q: What is a gummy smile? I've never heard that term before.
A: You may not have heard the phrase, but you've probably noticed the condition. A "gummy smile" occurs when too much gum tissue (in technical terms, over 4 millimeters, or about one-eighth of an inch) is visible in the smile. Different people have different ideas about when this issue becomes a problem… but if you feel it detracts from your appearance, there are several ways dentists can treat a gummy smile.
Q: What can cause a smile to appear "gummy"?
A: A number of factors can contribute to this perception. One is simply that an excess of gum tissue is covering up the teeth. Another is that the teeth themselves are relatively short; this can be a natural anatomical feature, or it can result from the teeth being worn down by a grinding habit or another cause. In some cases, the problem is that the upper lip is hypermobile, meaning it rises too high when you smile. And in rare instances, the upper jaw is proportionately too long for the face, making the gums and teeth extend down too far.
Q: What's the best way to fix this condition?
A: It all depends on what is causing the smile to appear gummy. If it's too much gum tissue, a periodontal procedure called "crown lengthening" can be used to remove the excess tissue and reveal more of the teeth. If the teeth themselves are responsible, they can be crowned (capped), or covered by porcelain veneers. A hypermobile lip can be controlled temporarily with Botox injections, or permanently with a minor surgical procedure. Jaw problems present the most complex condition, but can be successfully treated with orthognathic (jaw-straightening) surgery. Orthodontic treatment may also be recommended in conjunction with these therapies.
Q: I'm unhappy with the way my smile looks, but I'm not sure exactly what's wrong. What should I do?
A: A great-looking smile comes from the harmonious dynamic between teeth, lips and gums. If you feel your smile could use a little improvement, we can help you identify the things you like about it, and point out the things that need improvement. Working with an experienced cosmetic dentist is the best way for you to get the smile you've always dreamed about.
If you'd like more information about cosmetic gum treatments or cosmetic dentistry in general, please contact us or schedule an appointment for a consultation. You can learn more by reading the Dear Doctor magazine article "Gummy Smiles."