My Blog
Posts for: November, 2014
By Jennifer L. Graves-Nagel, D.D.S.
November 19, 2014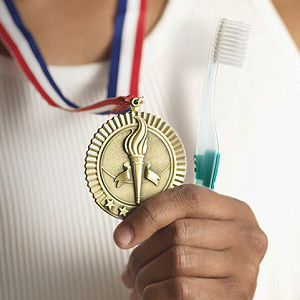 Considering all the intensive conditioning, practice and training they do, most people would expect elite athletes to be… well… healthy. And that's generally true — except when it comes to their oral health. A major study of Olympic contenders in the 2012 London games showed that the oral health of athletes is far worse than that of the general population.
Or to put it more succinctly: "They have bodies of Adonis and a garbage mouth."
That comment, from Dr. Paul Piccininni, a practicing dentist and member of the International Olympic Committee's medical commission, sums up the study's findings. In terms of the numbers, the report estimates that about one in five athletes fared worse in competition because of poor oral health, and almost half had not seen a dentist in the past year. It also found that 55 percent had cavities, 45 percent suffered from dental erosion (excessive tooth wear), and about 15 percent had moderate to severe periodontal (gum) disease.
Yet, according to Professor Ian Needleman of University College, London, lead author of the study, "Oral health could be an easy win for athletes, as the oral conditions that can affect performance are all easily preventable."
Many of the factors that had a negative impact on the athletes are the same ones that can degrade your own oral health. A follow-up paper recently published in the British Journal of Sports Medicine identified several of these issues. One is a poor diet: The consumption of excessive carbohydrates and acidic foods and beverages (including sports drinks) can cause tooth decay and erosion of the protective enamel. Another is dehydration: Not drinking enough water can reduce the flow of healthy saliva, which can add to the damage caused by carbohydrates and acids. The effects of eating disorders (which are more commonly seen in certain sports, such as gymnastics) can also dramatically worsen an individual's oral health.
Sound familiar? Maybe it's because this brings up some issues that dentists have been talking about all along. While we don't mean to nag, this study does point out that even world-class competitors have room for improvement with their oral hygiene. How about you? Whether you're a triathlete in training, a weekend warrior or an armchair aficionado, good oral health can have a major effect on your well-being.
If you have additional questions about oral health, please contact us or schedule an appointment for a consultation. For more information, see the Dear Doctor magazine article "Good Oral Health Leads to Better Health Overall."
By Jennifer L. Graves-Nagel, D.D.S.
November 03, 2014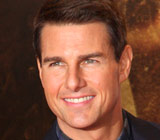 It's no surprise that plenty of teenagers go in for an orthodontic evaluation and come out wearing braces. But sometimes, an observant orthodontist may notice that an adult's smile could use a little bit of improvement, too. Even an adult like — Tom Cruise?
That's exactly what happened to the star of Top Gun, Rain Man and the Mission Impossible franchise. Cruise, then 39, was taking one of his children for orthodontic work when it was pointed out that the leading man's teeth were also out of alignment. So he opted for braces too.
"Yes, Tom Cruise has braces," said his publicist when the star appeared, sporting his new orthodontic appliances. "To him, it's no big deal." Cruise chose to get the relatively inconspicuous ceramic type, with only a thin wire visible in front of his teeth. He wore them for about a year and a half, having them temporarily removed when it was time to make a movie.
Ceramic braces are a popular choice among adult orthodontic patients, many of whom find that less noticeable orthodontic appliances fit in better with their personal or professional lifestyle. Clear aligners also provide a virtually invisible option. We can help you decide which appliance would best meet your needs. But the first step is a thorough evaluation of your periodontal health.
Is it Risky Business to get braces as an older adult? Not usually — but if you do show signs of periodontal disease, which is more prevalent in adults than teens, it's important to bring it under control before beginning your orthodontic treatment. There are also a few medical conditions, such as heart-valve disease, severe uncontrolled diabetes, and leukemia, which might preclude treatment.
For most people, however, orthodontics offers a great way to improve your appearance and boost your self-confidence — even if you're not a movie star. It is estimated that three-quarters of adults have some form of orthodontic problem; and studies have shown that orthodontic treatment can enhance an adult's career opportunities and social life.
So, if you're looking for a better smile at any age, don't hesitate to contact us or schedule an appointment to discuss your treatment options. You can learn more in the Dear Doctor magazine article "Orthodontics For The Older Adult."