My Blog
Posts for tag: oral health
By Jennifer L. Graves-Nagel, D.D.S.
November 19, 2014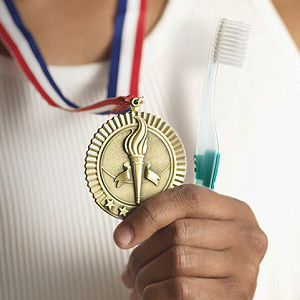 Considering all the intensive conditioning, practice and training they do, most people would expect elite athletes to be… well… healthy. And that's generally true — except when it comes to their oral health. A major study of Olympic contenders in the 2012 London games showed that the oral health of athletes is far worse than that of the general population.
Or to put it more succinctly: "They have bodies of Adonis and a garbage mouth."
That comment, from Dr. Paul Piccininni, a practicing dentist and member of the International Olympic Committee's medical commission, sums up the study's findings. In terms of the numbers, the report estimates that about one in five athletes fared worse in competition because of poor oral health, and almost half had not seen a dentist in the past year. It also found that 55 percent had cavities, 45 percent suffered from dental erosion (excessive tooth wear), and about 15 percent had moderate to severe periodontal (gum) disease.
Yet, according to Professor Ian Needleman of University College, London, lead author of the study, "Oral health could be an easy win for athletes, as the oral conditions that can affect performance are all easily preventable."
Many of the factors that had a negative impact on the athletes are the same ones that can degrade your own oral health. A follow-up paper recently published in the British Journal of Sports Medicine identified several of these issues. One is a poor diet: The consumption of excessive carbohydrates and acidic foods and beverages (including sports drinks) can cause tooth decay and erosion of the protective enamel. Another is dehydration: Not drinking enough water can reduce the flow of healthy saliva, which can add to the damage caused by carbohydrates and acids. The effects of eating disorders (which are more commonly seen in certain sports, such as gymnastics) can also dramatically worsen an individual's oral health.
Sound familiar? Maybe it's because this brings up some issues that dentists have been talking about all along. While we don't mean to nag, this study does point out that even world-class competitors have room for improvement with their oral hygiene. How about you? Whether you're a triathlete in training, a weekend warrior or an armchair aficionado, good oral health can have a major effect on your well-being.
If you have additional questions about oral health, please contact us or schedule an appointment for a consultation. For more information, see the Dear Doctor magazine article "Good Oral Health Leads to Better Health Overall."
By Jennifer L. Graves-Nagel, D.D.S.
October 24, 2014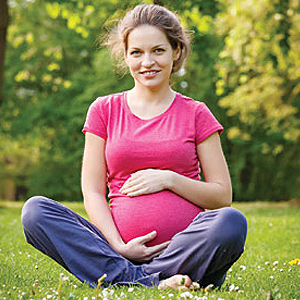 Pregnancy is an exciting time in a woman's life — but it can also generate a lot of questions about both the mother's and the baby's health. The realm of dental care is no exception.
Here are a few of the questions we frequently hear from expectant mothers, along with our answers.
Does the baby's tooth calcium come from my teeth?
This question is frequently asked by mothers who may have had dental issues and are worried they'll pass on these problems to their baby. Simply put, no — a baby developing in the womb derives minerals like calcium for their teeth and bones from the mother's diet, not her teeth. What an expectant mother can do is be sure to eat a healthy, balanced diet rich in nutrients and minerals like calcium.
Am I at heightened risk for dental disease during pregnancy?
Pregnancy does cause significant increases in your body's hormones, particularly estrogen. This can cause changes in the gum tissue's blood vessels that may make you more susceptible to periodontal (gum) disease (commonly called "pregnancy gingivitis"). It's also possible later in pregnancy to develop non-cancerous overgrowths of gum tissues called "pregnancy tumors." The heightened risk for gum disease during pregnancy calls for increased vigilance in monitoring gum health.
What should I do to take care of my teeth?
It's important to brush your teeth thoroughly twice a day with ADA-approved fluoridated toothpaste to remove plaque, a thin layer of bacteria and food remnants that adhere to teeth. You should also floss daily and consider using an anti-plaque/anti-gingivitis mouthrinse. And, of course, you should see us for regular office cleanings and checkups, or if you notice swollen, tender or bleeding gums, or other abnormalities.
Should I take prenatal fluoride supplements?
This sounds appealing as a way to give your baby a head start on strong tooth development. Studies on its effectiveness, however, remain slim and somewhat inconclusive — we simply don't have enough data to make a recommendation. What does have a solid research record is the application of fluoride to teeth in young children just after they appear in the mouth — studies involving over a thousand teeth have shown 99% cavity-free results using topical fluoride applications with sealants.
If you would like more information on dental care during pregnancy, please contact us or schedule an appointment for a consultation. You can also learn more about this topic by reading the Dear Doctor magazine article "Expectant Mothers."
By Jennifer L. Graves-Nagel, D.D.S.
August 01, 2014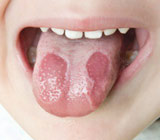 If you occasionally notice mildly irritating red patches on the top surface of your tongue, you may be one of the three percent or less of the population with a condition called benign migratory glossitis. It's also known as "geographic tongue" because the red patches often resemble land masses on a world map.
While the symptoms may be discomforting, geographic tongue isn't a cause for serious concern. The red patches are caused by the temporary loss of papillae, tiny bumps that grow on the surface of the tongue, which may appear and disappear repeatedly over a short time period (ranging from hours to days). As its medical name implies, this form of glossitis isn't cancerous or contagious; it's referred to as "migratory" because the red patches often appear to move around while changing size and shape. An outbreak can cause a mild burning or stinging sensation, and some people also encounter numbness in the patchy areas.
While there isn't a firm consensus as to geographic tongue's exact cause, there do appear to be triggers for it including stress, hormonal changes and mineral or vitamin deficiencies (particularly zinc and Vitamin B). There also seems to be a connection with psoriasis, a skin ailment characterized by redness and scaling — a number of people will experience both conditions. Geographic tongue appears more often in middle-aged, non-smoking adults, particularly women during hormonal fluctuations (as during pregnancy or ovulation). Individuals with deep grooves on their tongues called fissures are more susceptible as well.
There's no cure for the condition, but there are some treatments that can help alleviate any accompanying irritation. Depending on what we find during examination, we may prescribe anesthetic mouthrinses, antihistamines, steroid ointments or other treatments to help manage discomfort. It may also be helpful to limit your intake of foods during outbreaks that may increase irritation, including high acidic foods like tomatoes or citrus fruit, as well as eggplant, mint, spicy foods and alcohol (including certain mouthwashes).
If you experience these occasional patchy outbreaks on your tongue, please schedule a visit with us for a full examination. We may be able to reduce your discomfort and certainly put your mind at ease.
If you would like more information on geographic tongue, please contact us or schedule an appointment for a consultation. You can also learn more about this topic by reading the Dear Doctor magazine article "Geographic Tongue."